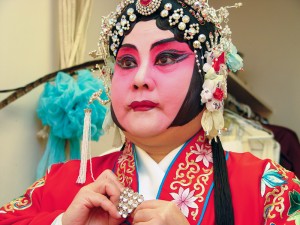 Qi Shu Fang
Born in 1943 in Shanghai, China, Qi Shu Fang began studying Beijing Opera at age four. She enrolled at the Shanghai Dramatic School and studied with her sister-in-law, a renowned actress and a skilled wu-dan, or woman warrior. Beijing Opera roles are highly defined and stylized, and actors always specialize. Qi Shu Fang is unique in mastering both the wu-dan and hua-dan (vivacious young woman) roles because of her martial arts skills and exceptional voice. Historically, Beijing Opera had been a masculine art form and female roles were played by males, but after 1949, women began to emerge as performers. Qi Shu Fang was central in that movement. As a teenager, she had already attracted the attention of the great Mei Lan Fang and was later picked by Madame Jiang Qing, Chairman Mao's wife, to play the female lead in "Taking Tiger Mountain by Strategy," one of the eight national model opera films produced during the violent upheaval of the Cultural Revolution. She quickly became famous and featured in performances and television and radio broadcasts throughout China.
In 1988 she left China at the height of her career and settled in New York City, where she and her husband Ding Meikui, established the Qi Shu Fang Peking Opera Company, a tight-knit group of Chinese immigrants, many of whom work long hours in unrelated jobs to support themselves and their families, but are nonetheless committed to their art form. In 2001 Mrs. Qi was awarded a National Heritage Fellowship from the National Endowment for the Arts. Over the years, she has traveled the world and has shown off her mastery of both the traditional and modern styles of Peking Opera performance throughout Asia, Europe, and North America.  In the United States she has been influential in shaping the careers of a new generation of performers, many of whom she has help emigrate from China. In addition to Ms. Qi, the film introduces four other artists.
Ding Meikui
Born into a family of actors, Ding Meikui is a forth generation Peking Opera performer.  At six years of age he began his artistic training, specializing in martial male roles.  Most well known for his interpretation of the role of the Monkey King, he has long collaborated with his wife Ms. Qi Shu Fang as her director.  Since immigrating to America, Mr. Ding has worked as a choreographer on performances of M. Butterfly in Portland, Seattle, and Phoenix, and successfully directed the Broadway production of The Women Generals of the Yang Family.  As the executive director of the Qi Shu Fang Peking Opera Company, he has made great contributions to establishing and promoting the art of Peking Opera in the United States.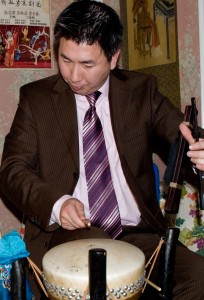 Tian Gang
A young man from Shenyang in the northwest of China, Tian Gang is the drummer and conductor of the Qi Shu Fang Peking Opera orchestra.  Despite the difficulties of performing Peking Opera in an immigrant community, he is fiercely dedicated to his art.  Like many of his fellow actors and musicians in the troupe, Tian Gang comes from a family of Peking Opera performers.  In fact, his father is a cymbal player in the very orchestra Tian Gang leads.  When not performing, father and son run a small shop selling bags and accessories in Manhattan's Chinatown.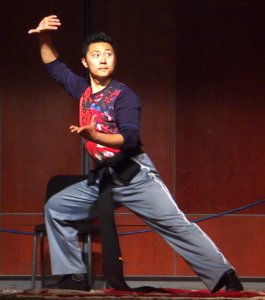 Liu Chunnuan
Liu Chunnuan, one of the leading young male actors in the Qi Shu Fang Peking Opera Company, has been friends since boyhood with Tian Gang.  Growing up in Shenyang, the two of them trained together at the same Peking Opera school.  Since coming to the United States,
Chunnuan has been "adopted" by Ms. Qi and Mr. Ding as a son.  Now married with a son of his own, Chunnuan has worked hard to make a new life for himself in New York, where, during the day he works as a real estate agent in Flushing, an area of the city with a large Chinese immigrant population.  At night, he continues to pursue his true passion – Peking Opera.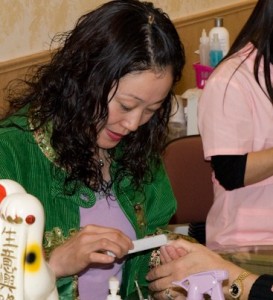 Li Yingchun
Li Yingchun, a native of Shandong province, was already a well-respected Peking Opera performer in China before she immigrated to the United States.  As a principle actress in the Shandong Weifang Peking Opera Company, she was recognized with a top award in the Chinese National Peking Opera TV Performance contest in 1998.  Specializing in depicting elegant but lively female characters on stage, Yingchun, off stage, has an equally captivating personality.  During the day she commutes to Islip, Long Island, more than an hour from her home in Queens, to her job as a manicurist at a nail salon. Her evenings are occupied with rehearsals and performances.